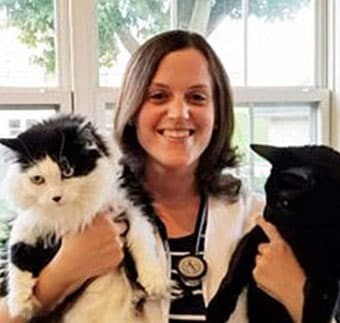 Dr. Puschak, DVM, Medical Director 
Dr. Mia Puschak was born in the United States and grew up in Israel, where she lived for 15 years and proudly served in the Israeli Defense Force.  She moved to the United States in 2003 and completed her undergraduate degree from The Pennsylvania State University in 2008, after which, she attended the University of Illinois College of Veterinary Medicine, graduating in 2012.  She moved back to Pennsylvania and began her career in small animal emergency medicine followed by 4 years at a small animal general practice. She joined Trooper Veterinary Hospital in 2017 and became our Medical Director in 2018.
Dr. Puschak is a member of the AVMA, PVMA and AAFP.  She enjoys many aspects of veterinary medicine, including Internal Medicine, radiology and ultrasound, and nutrition.  Most importantly, she loves making friends with all things furry.  Dr. Puschak loves spending time with her husband, son, and daughter.  She has two cherished felines – Sophie and Emmett, both formerly strays.  In what little spare time found, she enjoys art, nature walks, and traveling.