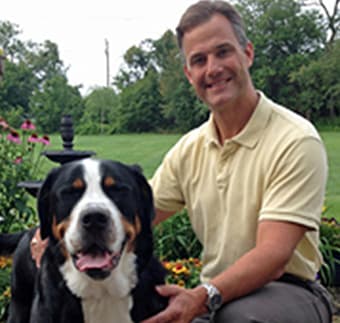 Dr. Luetke, VMD
Dr. Jeffrey Luetke is a native of Harrisburg, PA.   He did his undergraduate work at La Salle University in Philadelphia and graduated from the University of Pennsylvania School of Veterinary Medicine in 2002.  As a result of academics bringing him farther east, he took up residence in the Greater Philadelphia area and began working in private practice, joining Trooper Vet in 2015.
Helping animals has always brought Dr. Luetke great satisfaction. A member of the AVMA, PVMA, and AAFP, veterinary surgery is a true passion of Dr. Luetke's as is practicing comprehensive medicine.  Dr. Luetke loves getting to the root of the problem, creating a treatment plan, and then working with clients to take the best possible care of their pets.
Dr. Luetke enjoys spending time with his wife Nicole, a physician, daughter Isabella, and their Swiss Mountain dog, Frieda. He enjoys family vacations to warm places, physical fitness and is also a wine-making enthusiast.