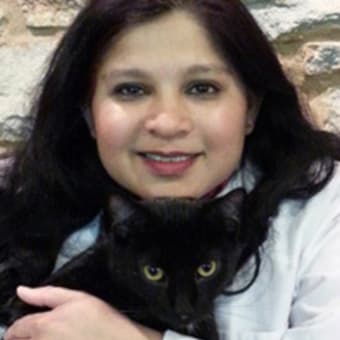 Dr. D'Souza, DVM
Dr. Dina D'Souza attended undergraduate and veterinary school in the Midwest at the University of Wisconsin-Madison School of Veterinary Medicine. After her 1999 graduation, she packed her bags, moved to the East Coast, and began working in private practice. Trooper Vet welcomed her aboard in June 2015.
Dr. D'Souza has many years of experience in diagnostics, surgery, dentistry, and internal medicine. A true fan of all things cat, she has a very special interest in feline medicine, feline behavior, preventive and geriatric care. A member of the AVMA, PVMA, AAFP, and the Delaware Valley Academy of Veterinary Medicine, Dr. D'Souza is active in the continuing education community.
When she isn't at Trooper taking compassionate care of your pets, Dr. D'Souza is spending time with her husband, children, and several rescued feral cats. Dr. D'Souza also has a special fondness for cooking or perhaps more accurately, a special fondness for cooking gadgets! She also loves vegetable gardening and taking long walks.