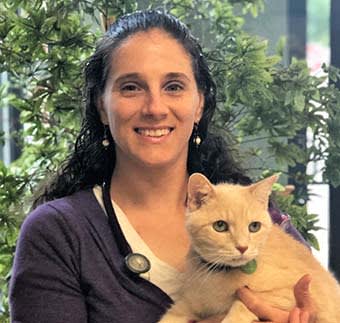 Dr. St. John, VMD
Dr. Alison St. John was born and raised in the suburbs of Philly, living in Devon for most of her life. She went north to the University of Rochester for her undergraduate degree in Biology, before returning home to attend vet school at the University of Pennsylvania, graduating in 2010. Proud to call Philly her home, she has remained in the area working as a small animal and exotic pet general practitioner. With a special interest in unique critters, she completed internships at both the Cummings School of Veterinary Medicine at Tufts University and the Philadelphia zoo, learning from their wildlife and zoo specialty veterinarians.
Dr. St. John deeply enjoys the puzzle that is medicine and finds the greatest reward helping those furry critters without a voice. She enjoys internal medicine and managing diseases as much as routine and non-routine surgery and dental procedures. She loves the creativity needed to find real-world solutions to unusual animal problems and the excitement that every day is different. She holds memberships with the AVMA, PVMA, and AAFP.
Dr. St. John is glad to have found (in 2019) a wonderful compassionate practice close to home, such that she can stay in touch with her parents and twin brother. When not at work Dr. St. John spends her time playing ultimate Frisbee, snowboarding, taking aerial circus classes, gardening, or cooking and baking. There is also always time to puzzle over a good crossword with her three adopted cats, Rook, Tage, and Bumble Bee.